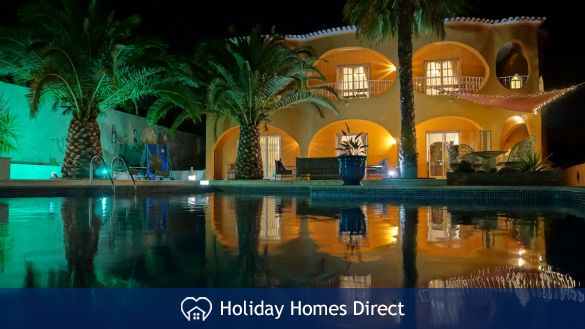 Type: Villa
Sleeps: 14 (7 Bedrooms)
Nearest Beach: Armação de pera (2 km)
Change Over Day: Saturday
Long term lets considered
Non smoking only
suitable for children
suitable for the elderly
Pets not allowed
Notes on accommodation: Villa Camaleao is a comfortable family villa 7 bed rooms 5 bathrooms. Private and not over looked, suitable for all ages. 2 Pools one is heated with waterfall. All the bedrooms have remote control ceiling fans or air-con. Large dining area with BBQ, pool side pergola and cocktail bar. Out side shower/wc The villa has electric entry gates and security doors and private parking. located near to the local town of Armacao De Pera. Extra's available ie Z-Bed, cot/high chair. extra person, Z-beds available £100. cot/high chair £50. per week. Outside: Private gardens peaceful and relaxing private pool 8x8 metres,Second pool 70cm deep is heated with water fall also outdoor shower/wc. Complete with sun loungers and patio furniture. Barbecue, comfortable dining area. Pergola and cocktail bar Games full size pool table and table tennis. Utility Room: Washing machine, dishwasher. Iron/ironing board. Cleaning / Towels / Linen / Maid service: Maid service 2 times weekly, clean towels twice a week and clean linen once a week, this is included in the rental. included in the villa rental is use of towels at the poolside or beach . Other: Patio doors leading out onto walk around balconies overlooking the pool and gardens. Large dining area, relaxing pergola area and cocktail bar. Views overlooking the peaceful country side. Games Pool table and table tennis.
Images of Villa Camaleao
Armacao de Pera Area
THINGS TO DO
Armação de Pêra is a traditional Portuguese town; dotted with colorful fishing boats along the beautiful sandy beaches. The old part of the town has plenty of shops, cafés, and restaurants that provide an excellent place to sample the local fish and fruits as well as giving you a flavor of the culture of old Portugal.

The villa itself is situated close to Porches, just west of Albufeira and to the east of Carvoeiro in a peaceful countryside location with very easy access to a range of beaches and attractions. Just 5 minutes by car or a 20-minute walk in the sun will take you into the local town of Armação de Pêra.

BEACHES
Marinha: A Turning off the EN125 opposite the International School (between Porches and Lagoa) will bring you to the magnificent beach at Marinha with its impressive cliff top walks. Steps down to the beach. Quiet out of season, restaurant open in summer.

Albandeira: Approached by a sandy track from the crossroads by the winery on the Marinha road – a lovely quiet beach with small restaurant open in summer.

Benagil: A good small beach found beyond Marinha or by turning left off the Lagoa to Carvoeiro road. Parking is close to the beach and there are no steps. Several local restaurants by the beach and trips on small boats are available in the summer.

Centianes: Located 2kms east of Carvoeiro, a very good beach but inclined to get busy in the summer. Restaurant on the beach, some steps.

Carvoeiro: Very busy in the summer and only small. Many restaurants around and on the beach.

Caneiros: Located off the road between Sesmarias and Ferragudo, a pretty quiet beach with only a few steps. Restaurant on the beach and one close by.

Praia Grande: Found around the bay from Caneiros, this wide sandy beach overlooks the Portimão estuary. Good for water sports.

Praia da Rocha: Large impressive stretch of beach with good sand and many restaurants/shops close by.

Armação de Pêra: Attractive palm tree-lined promenade overlooking the beach which is wide and good for swimming and water sports. Many shops and restaurants.

Senhora da Rocha: A small sandy beach located off the road between Porches and Armação de Pêra. A good place to take a boat trip with the local fisherman.


The Algarve has some of the best golf courses in the world. Listed below are the major courses available for your enjoyment. We are also pleased to be able to offer our visitors Discounted Green Fees – click here for more information.

Vale Do Lobo
Situated – 15km west of Faro Airport.
Courses – There are three nine-hole courses which all have excellent views of sea and country.
Facilities – Pro Shop, equipment hire, restaurant, buggies and trolleys, driving range and practice green.
289–393–939

Quinta Do Lago
Situated – 15km west of Faro Airport on the Quinta do Lago development.
Courses – This 36 hole course is one of Europe's finest, with outstanding greens. A Handicap certificate is required.
Facilities – Pro shop, equipment hire, buggies and trolleys, restaurant, driving range, putting green, caddies and golf lessons available.
289–394–529 and 289–934–782

Vilamoura 1
Situated – 30km west of Faro Airport.
Courses – This 18 hole golf course has been laid out along the lines of the classic English courses.
Facilities – Pro shop, equipment hire, restaurant, driving range, practice green, pro lessons and buggies and trolleys.
289–321–652

Vilamoura 2
Situated – 30km west of Faro Airport.
Courses – This 18 hole golf course takes you through open land with magnificent sea views and then back through umbrella pines towards the clubhouse. The greens are comparatively small.
Facilities – Pro shop, equipment hire, driving range, buggies and trolleys, putting green and golf lessons.
289–315–562

Vilamoura 3
Situated – 30km west of Faro Airport.
Courses – 18 hole park land course opened in 1990. Water hazards on 8 holes with heavy bunkering around the greens.
Facilities – Pro shop, equipment hire, driving range, buggies and trolleys, putting green and golf lessons.
289–380–724

Vale Do Milho – Carvoeiro
Situated – Within the Jorge de Lagos Country Club, near Carvoeiro.
Courses – This 9 hole golf course, although rather small, provides many characteristics of a full size course, such as green side bunkers, water hazards and graduated rough.
Facilities – Club and trolley hire, practice putting green and bar.
282–358–502

Carvoeiro Clube Golf – Carvoeiro
Situated – A few minutes drive from the Carvoeiro Club development.
Courses – Vale de Pinta is a challenging 18 hole championship course for the more experienced golfer.
Facilities – Driving range, practice putting green, professional teaching club hire, buggies and trolleys.
282–340–900

Penina
Situated – A few km west of Portimão adjoining the Penina Hotel.
Courses – Penina consists of an 18 hole championship course and two 9 hole courses. They provide a challenging course spread over beautifully landscaped and wooded holes with waterways and lakes being a predominant feature.
Facilities – Bars, restaurants, Pro shop, tennis court, swimming pool, putting green, driving range, equipment hire, buggies and trolleys.
282–415–415

Palmares
Situated –Approx 10 minutes from Penina near to the town of Lagos.
Courses – An 18 hole course where there are five-link holes strategically constructed on the first nine and after these, the course takes you up high hills and deep valleys.
Facilities – Clubhouse, Pro shop, equipment hire, driving range, buggies and trolleys, putting green and golf lessons
282–762–961 or 282–762–953


PLACES OF INTEREST
Carvoeiro: White washed fishing village centred around the main beach.

Lagoa: The centre of the wine trade.

Albufeira: The original tourist centre of the Algarve, very busy in the summer with many bars, restaurants, and nightclubs. Good shopping centre and the character of the centre has been retained with cobbled streets and small shops.

Alcantarilha: Sleepy old town unspoiled market town.

Silves: This town was the capital of the Algarve during the Arab occupation until the XVI century; it has an interesting castle and gothic cathedral.

Portimão: Busy town with good shopping centre, vegetable and fish markets with pleasant walks by the harbor. The traditional sardine restaurants under the bridge have been turned into a tourist attraction.

Monchique: A pleasant drive through pine and eucalyptus forests. Stop on the way at Caldas de Monchique, a small spa town with attractive traditional architecture, local handicrafts and an opportunity to try traditional dishes and sample the spring water. Foia is the rather bleak summit with superb views on a clear day and there are several good restaurants on the way up – barbecue chicken is a specialty.

Lagos: Attractive old town with a fort, castle, medieval walls, and several museums. Good for shopping with traffic-free cobbled streets and plenty of restaurants with outside seating.

Cape St. Vincent: The most westerly point of Europe, spectacular waves at certain times of the year.

Tavira: An unspoiled Portuguese town, dating back to Roman times, straddling the river with many interesting churches and a castle with good views over the town. Take the inland route through Loule and Sao Bras, a scenic country drive.

Ponte Da Piedade: Situated near Lagos and considered to have the most outstanding rock formations on the Algarve.

Loulé: Attractive market town in the hills. Large vegetable market and many local handicrafts.


Home
The Villa
Things to do
Reviews
Booking information
Enquire Now
SPORTS
Check out the list below to find out what the more active of us can get up to!

Golf
There are a number of excellent golf courses across the Algarve coast offering challenges for all levels of player – the following courses are just a selection that you will find nearby Villa Camaleão.

Penina
Palmares
Carvoeiro Clube
Golf Village Centianes
Click here for details of golf courses in the Algarve

Horse Riding
Benagil Centro Hipico Galaraz
Porches Velho (between Porches & Armação de Pêra)
Hotel Penina
Tennis
Rocha Brava
Carvoeiro Clube
Water Skiing
Ferragudo
Alvor
Senhora da Rocha
Wind Surfing
Ferragudo
Alvor
Senhora da Rocha
Galé
Snorkeling/Scuba Diving
Benagil
Carvoeiro
Sailing
Vilamoura
Ferragudo
Big Game Fishing
Vilamoura
Portimão



Home
The Villa
Things to do
Reviews
Booking information
Enquire Now
TOURS
Listed below are details of some of the more interesting activities to do whilst you stay in the area. Always check once you arrive to get up to date times and prices of what is on offer.

Zoomarine
Zoomarine
A chance to see and experience some of nature's most beautiful sea creatures Watch the dolphins display remarkable powers of intelligence and marine acrobatics. See the incredible film of a baby dolphin being born. Marvel at the giant Elephant Seal, Sea Lions and the amazing parrot show to name but a few attractions. All children's rides are inclusive once inside the complex and full restaurant facilities are also available.

Be amazed at the incredible intelligence of the dolphins in complete harmony with their trainers! An Entertaining and educational day for all! Be intrigued and informed of the wonders of the sea!

Zebra Safari
Zebra Safari
"We drive in a caravan into the inland where we'll visit monuments, taste the "medronho" in the Moorish "alembic", we'll meet the women who make traditional handicraft and we'll stop and explain everything there is to know about cork. In the right time of the year, we can see the beekeepers at work. We'll taste the biter almond liquor. Far away from the busy coast, it is sometimes possible to see a wild boar or a fox. When weather permits we will take a swim in one of the clear rivers or lakes and we always have time to stop and admire the amazing beauty of the landscape."

"Our drivers, who speak English, French, German, Dutch and of course Portuguese, take pleasure in explaining extensively the costumes and habits of the friendly population. Lunch is a pleasant long abundance of typical regional food and drinks and everyone may eat as much as they want. The menu consists of soup, bread, olives, delicious roasted chicken "piri-piri" with chips and salad, followed by fruit. All of this of course accompanied by wines, red, white and non-alcoholic drinks. The start of the excursion will be around nine and at 17.30hrs the clients will be back in their hotels. And we are certain they will remember this day as one of the best of their holidays."

Pottery Tour
PORCHES is the centre of the Algarve's pottery industry. Though the village is small, there is plenty to see here, as you browse through the displays of terracotta jars and watch artists at work, painting plates and fruit bowls with sunflowers, cockerels or colourful clusters of grapes. Free wine tasting.

Quarteira Market – Wednesdays
This is a chance to spend time in the bustling gypsy market and get those last-minute bargains.

Silves & Alte – Mondays/Tuesdays/Fridays
A chance to visit the mountains and see some remnants of its Moorish existence. SILVES – old Moorish capital, castle and cathedral. Passing through MESSINES/PORTELA area – waterwheel contraptions (noras), orange, almond, fig and cork oak trees. SANTA MARGARIDA – where you can taste the (medronho) local fire water direct from the barrel. ALTE – the most picturesque village in the Algarve.

Portimão Shopping
Explore Portimão – the second largest town in the Algarve with 4500 inhabitants and an important fishing harbour. As we pass through the town of Alcantarilha and Porches see their famous brown, clay plots displayed in numbers.

Driving across the bridge in Portimão over the River Arade, you can see the brightly colored fishing boats moored along the quayside. Enjoy time to explore. Stroll around the harbor or wander to the pretty, tree-lined square surrounded by paved cafes, patisseries and restaurants. Why not try freshly caught sardines for which Portimão is particularly famous.

Discover an abundance of shops selling everything from leather shoes and designer clothes to crystal and ceramics. An interesting afternoon out mixing tradition with modern-day life! Superb opportunity to discover Portuguese crafts and fashion! Shop in style and be spoilt for choice! Take the opportunity to sample the famous freshly grilled sardines from the harbor's BBQ!

The Big One Water Park
The Big One Water Park
The Big One lives in Portugal in the heart of the Algarve and within easy reach of all the major resorts, so you really have no excuse not to visit this stunning attraction when you are on holiday!

Crazy World
Crazy World
The Algarve Zoo – Come on in and make new friends!

Splash & Slide
Splash & Slide
Share this crazy and dizzy adventure unique in Portugal. Enjoy it in safety with your family and friends. An unforgettable day filled with pleasure and emotion.
Getting There
Faro airport is only 45 km from the villa, airport transfers available or car hire
Nearest Travel Links
Airport: Faro (45 km)
Railway: Tunes (5 km)
Rental Details
No all female or male parties
Suitable types of Holiday Armacao de Pera
Fishing
Golf Course
Horse riding
Tennis courts
Water Park
Watersports
Sailing
Mountain Biking
Diving
Swimming
Walking
Surfing
Windsurfing
Hill Walking
Cultural holiday
Wine tasting
Local cuisine
Relaxation
Exterior Details
Lots of shaded areas to relax and read a book, the small pool is only 80cm deep with steps leading in and out for easy access and a full length seat also a water fall, this pool is a favourite for the small children.
The large pool is 8m x 8m and at its deepest is only 1.80 m deep, also out side we have a full size pool table, table tennis and a football table.
BBQ with alfresco dinning and and your own bar to serve up cocktails with bountiful lighting through the gardens.
Exterior Facilities in Villa Camaleao
Balcony/Terrace
BBQ
Bicycles available
Parking space
Private garden
Private outdoor swimming pool
Secure parking
Facilities in Villa Camaleao
Air conditioning
CD player
Cooker
Dish washer
DVD player
Freezer
Fridge
Hairdryer
Highchair
Internet access
Iron
Kettle
Linen provided
Microwave
Television
Toaster
Towels provided
Washing machine
Safe
Bedrooms / Bathrooms
Bedrooms (7)
Bathrooms (5)
Ensuite (1)
Showers (5)
WCs (1)
Sleeps a Maximum of 14 people:
Single Beds (6)
Double Beds (4)
Cots (2)
Furniture
Dining Seats (14)
Lounge Seats (12)
April
May
June
July
July - August
September
October
Prices may be subject to change at the owner's discretion.
Loudervoice Reviews
Powered by LouderVoice and LouderYou
Need any holiday ideas?
Looking for different types of holiday?