We have three options Standard, Premium and Deluxe.

At €129, our Standard package gives you a full page listing on www.holidayhomesdirect.ie, www.holidayhomesdirect.co.uk, Daft.ie, 24 photos, video display, free SMS text alerts, and availability calendar.
At €189, our Premium package offers fantastic value for money and includes all the features in the Standard listing but also includes an upgrade of your advert to a featured listing for 12 weeks of your choice and an advert listing on Daft.ie. and Rent.ie.
At €249, the Deluxe listing is available for people who want to get the maximum exposure for their property advert available. It includes an upgrade of 15 weeks of your choice as a featured listing on www.holidayhomesdirect.ie, a listing on daft.ie, rent.ie and Holiday Homes Direct will compile a slideshow of your property (click here to see sample). It also includes a link to your personal website. Each of the above packages run for a period of 12 months from the date of payment.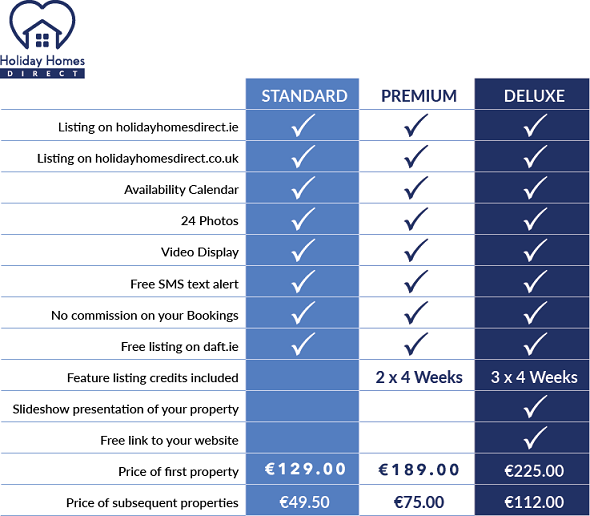 Extra ways to boost your property advert, we know the holiday rental business for further information and tips on how to promote your property please call our Sales and Customer Services team at +353 1 4853643 or +44 203 4684561 (9am-5.30pm, Monday-Fri)
Featured Listings:
Be seen by more holidaymakers!
Upgrading your advert to a featured listing is a great way to get more visibility for your advert and it ensures that your property features at the top of the search results pages relevant to your location.


Featured Listings are displayed according to the location search criteria entered by the holidaymaker. There are a maximum of 9 listings shown at the top of the results page and these are rotated evenly each time the page is refreshed.

Starting at only €15 for 2 weeks, they are one of our most popular additional extras and a fantastic way for you to get extra exposure for your property.
Featured Listing for 2 weeks: - €20
Featured Listing for 4 weeks: - €35
Featured Listing for 6 weeks: - €40
Featured Listing for 8 weeks: - €55
Featured Listing for 12 weeks - €60
Featured Listing for 12 months: - €155
Make your advert stand out from the rest! As we live in a very visual era, audio-visual slideshows make for a great way to showcase your property. An advert with a slideshow is more likely to attract holidaymakers and increase your enquiries than those without one. Research shows you have about 5 seconds to attract the attention of your advert viewer. Having a slideshow presentation of your property will give the holidaymaker the basic information they are looking for quickly, which helps to convert enquiries into bookings easier.
With your photos, we can create a professional-looking slideshow with music to elegantly display the best features of your property. When completed, the slideshow will be displayed on your advert and on the Holiday Homes Direct YouTube page with an exit link to your property. The slideshow is also fully Meta tagged on the YouTube page which helps improve your property's search engine ranking. This fantastic feature exposes your property to thousands of potential holidaymakers every day! When we receive your payment all you need do is email the photos to us and we will look after the rest. It's that simple!

Please note that for the slideshow presentation we recommend that images meet the following criteria to ensure a professional result:

a) Images should be at least 2MB and over.
b) Images should be 1280 X 900 resolution
c) HHD recommends at least 10 images up to a maximum of 15 per slideshow.
Non-reciprocal link to your personal website - €15 per year
(Included in Deluxe Package)
You can add a link to your personal website from your advert on Holiday Homes Direct, which gives you the ability to provide more information to prospective renters.
Reciprocal link to your personal website - Free
You can add a link to your personal website from your advert on Holiday Homes Direct, which gives you the ability to provide more information to prospective renters.
Create a link from your personal website to Holiday Homes Direct, and we will exchange a link from your property advert to our website.
Enter your property website address on our system
Contact us online at Customer Support with your property number and the URL of the page on your website with the link to Holiday Homes Direct. We will then create a link on your property advert to your personal website within 2 weeks
If you do not wish to provide a reciprocal link from your own website back to Holiday Homes Direct you may pay €15 for an exit link
Feature in our newsletter as property of the month - €75
Promote your property in our monthly newsletter to over 3000 subscribers as our property of the month.
Scanning of photos sent by post
Holiday Homes Direct offers the service of scanning photos of your property free of charge. Please enclose a stamped addressed envelope if you like us to return these photos. Post your photos to Holiday Homes Direct, DMG Business Centre,9-13 Blackhall Place , Dublin 7, Ireland
If you are having any difficulty uploading your images on our website, you can also email us with the images and we would be happy to upload them to your property advert on your behalf.
Input of Property details by Holiday Homes Direct Team
Holiday Homes Direct can input property details on behalf of advertisers from information available elsewhere on the Internet or received via post or email. The cost for this service is €25 per property.
List your Special Offers on Holiday Homes Direct
If you would like to offer a price reduction to fill late availability dates or cancellations or offer an early bird incentive to generate early bookings, you can do this at any time.
Email us with your property number, the dates for the special offer, the normal price for this period and the special offer price you are introducing.
We will add these details to our 'HOT DEALS' section of the website and promote the offers to the Travel Media.
All prices are exclusive of VAT
Please note that if you are resident in the Republic of Ireland, you are required to pay VAT at 23%.
Holiday Homes Direct offers a cost-effective method of advertising your property to the Irish Market.
Through our website you are offered :
Guaranteed Marketing exposure - Combining online marketing with traditional print and media marketing
Web presence - Our website gives you a full-page ad for your property where you will be able to outline all the attractive features of your property and location, up to 24 photos, video, availability calendar, administration area, and SMS text alerts to notify you of all enquiries.
Total Control of your advert - You can make changes to your property details, photos, pricing, and availability online at any time.
Top Search Engine Rankings
Customer Support - Our helpful and friendly team are happy to answer any of your queries.
Great Value - At prices from only EUR129 + vat per year!
Registration is free, there is no obligation to complete the advert, and no payment due until you are ready to advertise on the live site, however, if you have any further queries please call Customer Services at +353 1 4853643 or +44 203 4684561 (9am-5.30pm, Monday-Fri)