Apartment Vila Arade, Top Floor, sleeps 4, Sea view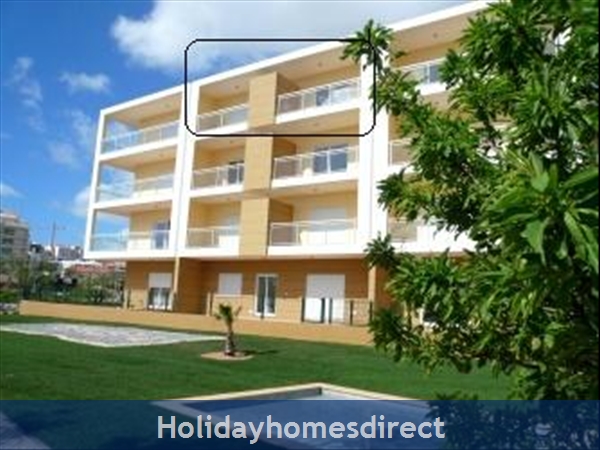 Type: Apartment
Sleeps: 4 (1 Bedrooms)
Nearest Beach: Praia da Rocha (0.8 km)
Change Over Day: Flexible
Wheelchair access
Pets allowed
Non smoking only
Pets considered
suitable for children
suitable for the elderly
Winter lets available
LUXURY and very COMPLETE APARTMENT at the outskirts of Portimao, with wide views on the Arade river, the quaint village Ferragudo, the marinas and……….....
the Atlantic Ocean. All near lively Praia da Rocha with an abundance of bars, restaurants, hotels like the well-known Bela Vista hotel, small shops at just a 15 minute walk from the apartment, while Portimao city, with all it's amenities is close by, behind the apartment.

Enjoy a relaxed and careless holiday-vacation in the historic city of Portimao, see the fishermen's boats depart for their nightly activities, the (dis)embarkment of the luxury cruise ships or just enjoy the great views and the lovely sunshine on either the roof terrace or one of the two balconies of this lovely top-floor (3rd) apartment in the Edificio Vila Arade.

Several well-known golf courses are close by, as is the race track, the casino, the Arade music hall and several other nice things to do.
EDIFICIO VILA ARADE
The Edificio Vila Arade is a small apartment complex of 3 buildings with either 4 or 3 floors, with luxury flats, lift and underground garage. The building started in 2008 and completed one year later.
Many (your!) apartments are facing the Arade river and have front line view.

Each apartment has its own parking space in the underground garage with electric door but also on the fenced plot behind the flats are many free parking places. At the front is a very nice and well kept lawned garden with the communal swimming pool, kids pool and outside shower.
It is very easy to reach the apartment from Faro airport and will take just about 45 minutes by car which can be rented at www.Faroairport-Carrental.com

YOUR APARTMENT
Your temporary vacation home is very well located on the third (top) floor with elevator to your front door. It has two balconies/terraces with views on the Arade River and the Ocean as well as the swimming pool. The apartment is very complete with lounge/diner with airconditioning, TV set, large kitchen equipped with microwave, oven, cooker, dishwasher, freezer/fridge and lots more including a washing machine and toaster. The couch can easily be turned into a double bed in case you are with friends or children.

The double bedroom with fixed wardrobes, a small safe for your valuables and an aircon to cool in summer and heat in winter. The bathroom has a tub with hydromassage shower, washbasin and a toilet. The apartment sleeps 2-4 and a cot will be available when needed.

Next to the front door is a staircase leading to the communal roof terrace with fixed BBQ.
Here you can enjoy the view and sunshine until very late at night.

Images of Apartment Vila Arade, Top Floor, Sleeps 4, Sea View
The Algarve Region
Algarve Shopping - Guia-Albufeira
Possibly, during your journey from Faro airport, you have already driven past this major shopping mall along the National Road EN125. On a rainy day (if there is any ) and about 30 minutes from your apartment you can visit Algarve Shopping in Guia/Albufeira, right opposite the Makro and with lots of free parking space above ground as well as in the giant underground parking.

In Algarve Shopping you will find a multitude of shops, the possibly largest supermarket you have ever seen, the Continente where you can buy everything you may require, but also fashion shops like Zara. The top floor is one big eating area with lots of restaurants, bakeries, coffee-shops, KFC's and the like, but also for a quick bite/roll this is the place to be. If the weather is really bad – it does happen sometime - you can see a film in one of the 4 cinema's. You will be amazed by the price of a ticket!
Aqua Shopping - Portimão
In the northern part of Portimao's city. Near to the large general hospital, you can find the recently built Aqua shopping centre. Very luxurious and all the modern/fashionable brands are available. Huge underground (free) parking and elevators will take you to the desired floor. A phrase from another site: "Covering a total floor area of 47,250 m² spread over three levels ( making it the biggest in the Algare ) , Aqua Portimão features a shopping gallery of 35,500 m², attached to a Jumbo hypermarket and offering 117 stores, nine mid-sized units and 21 restaurants. All the facilities you would expect, Post Office, ATM, Baby facilities, etc.. It also includes a three-level underground parking area with 1,800 spaces".
Close to this new and modern shopping building are old factory chimney's where you can see the storks build their nest, lay their eggs and raise and feed their own children. This can also be seen from the balcony of your apartment. Storks nestle there as well. Young storks are being fed quite close to you.

Villages - Ferragudo
Opposite the apartment and visible from the lounge, kitchen and bedroom, lies the village Ferragudo on the other side of the river. A lovely unspoiled authentic fisherman's village. A small village with a small tidal harbor and many good fish restaurants along the boulevard. The village was built against the slope of a hill with the church as central point. From here you have a very nice view on the Arade river, the Atlantic and, of course, Portimao with your flat on the top floor.

Every 4 weeks there is a bric-a-brac market in Ferragudo. Here you will find all kinds of second hand stuff at very reasonable prices (after negotiations!). The village square has a very special atmosphere with lots of terraces, tabacconists and small shops. A stroll through the small and narrow streets of Ferragudo will make you enjoy the beautiful Algarve even more.

Beaches like Praia Grande, Pintadinho, Praia dos Caneiros with the famous beach restaurant will leave an impression for life.
Monchique
The Monchique village , or in full, Serra de Monchique, is just 20 minutes away from your apartmenrt. Monchique is a must see village and aready the winding road to the village, with lots of handycraft shops and restaurants, is very attractive.

The market village is especially known because of the very high location and most impressive views. The highest part of the mountain is the township Foia where there are even pick-nick tables and places where you can drink the natural water from the wells of which people say that the water has a healing effect against many illnesses. Caldas de Monchique is where the old Spa is being re-vitalised; e great place to relax. Even at a night with clear sky the Monchique mountain range is impressive; you never believed that there were so many stars visible with the naked eye. Very romantic!

Even more beautiful and pure nature can be seen and experienced when you drive a little further into the mountains. Ever so quiet and rough; purity to the max. The Serra de Monchique also protects the Algarve against the colder Northerly winds and stops the showers from the North. And when you are roaming around Monchique, do use the opportunity to have a delicious Frango Piri-Piri in one of the basic local restaurants. Enjoy the food, the locals and the very low prices.
Portimão
After Faro, Portimao is the second largest city in the Algarve and the main commercial harbor. It also has the largest sardine-fleet of Portugal and on the boulevard, close to the ancient bridge, you can eat the best sardines ever. Walking to the South on the Boulevard (your apartment is just 100 yards from the end of it) you will encounter many small stall selling tickets for boat trips. Along the coast but also up-river, all the way to Silves.

Portimao has the largest public hospital in the Algarve and all specialists are available. A private hospital can be found nearby in Alvor. The center of Portimao is constantly under renovations and all historic sites are preserved. It will take 15 minutes to walk from your apartment to the city where there are lots of restaurants and shops. In the same amount of time you can walk to the Praia da Rocha beach and the more touristic part of the city.

Praia da Rocha
Just a short walk will take you to the well-known Praia da Rocha, the part of Portimao that is especially developed to attract tourism, mainly because of the great sandy beach and the impressive high rocks
along the coast and boulevard. In Praia da Rocha you will find whatever a holidayer may wish to find; very many small shops, tabacconists, terraces, restaurants, bars, café's, hotels, a casino, disco's, you name it. But also here, you will find the charming traces of the Morish occupation, many hundreds of years ago. Shown in the way some houses were built, the typical chimneys on the roof s. A holiday is not complete when you have not enjoyed a dinner with a Fado performance. Fado, the typical and romantic Portuguese music.
Large sandy Praia da Rocha beaches
Lively Praia da Rocha boulevard
Long Portimao boulevard
Municipal Portimao Marina with Club house
Commercial Portimao marina and harbours
Praia da Rocha commercial Marina
Many small restaurants with all kinds of dishes
Lively terraces for a beer, bica or coca cola
Praia da Rocha beach bars
Several Portimao museums
Many very good hotels
Rental Apartments
Golf courts nearby
Portimao Area
Golf
The Algarve is also called a Golfers paradise; there are more that 35 different courses, each with their own par, speciality and charm. Of course there are the famous resorts Quinta do Lago and Vale do Lobo in the central part of the Algarve, also called the Golden Triangle, but in the direct neighborhood of your apartment are many good and well-liked courses as well, Courses with a more acceptable fee and good starttimes and the most beautiful fairways. Also a golf membership on these courses is not too expensive. And what about a delicious lunch or diner in one of the clubhouses?

To complete the list of options, here are an number of golf courses in the Algarve: Quinta do Lago North, Quinta do Lago South, Vale do Lobo Royal Course, Vale do Lobo Ocean Course, San Lorenzo, Pinheiros Altos Laranjal, Colina Verde, Benamor Golf, Quinta da Ria, Quinta da Cima, Monte Rei, Castro Marim, Quinta do Vale, Parque da Floresta Boavista, Penina, Pestana Alto Golf, Golfe do Morgado, Alamos Golf Pestana, Vale da Pinta, Gramacho Pestana, Pestana Silves, Vale do Milho, Oceânico Faldo Course, Oceânico O'Connor jnr.,Salgados Golf, Balaia Albufeira, Pine Cliffs Golf Course, Oceânico Laguna Course, Oceânico Millennium, Oceânico Victoria, Oceânico Old Course, Pinhal Golf Oceânico and Vila Sol.

With either 9- 18- or 27 holes courses in the great Algarve sunshine and impressive surroundings.

Kayaking - Coastal Cave Trip
Silves & Mexhilhoeira Grande

When you really want to experience the nature and the impressive surroundings up close, then there are many options to do so, like a boattrip along the coast, big game fishing on the Ocean or canoeing. Really see everything from just a few yards away while you relax and enjoy the great climate.

Be amazed by the natural beauty of the caves and cliffs of Ponta da Piedade of Lagos.
From the beach of Praia da Batata in Lagos we depart in stable BIC Ocean Sportkayaks to explore the golden coast of Lagos. In the beginning you kayak along the golden beaches, up to the first rock formations.

On the way to the most southern point of Lagos you will see many birds such as cormorants, seagulls and storks. Be seduced by the crystal clear water of the Atlantic Ocean. We anchor on secluded white beaches, only to be reached by sea to take a refreshing dive into the ocean and snorkel amongst the fish. On the way back to Lagos we head onto open sea to catch a few waves!

Our kayaking trips are suitable for beginners but will also satisfy experienced paddlers. Our multi-lingual guides are experienced kayakers who have a keen interest in the natural and cultural significance of this region. They are dedicated to provide personal attention, assuring you a safe and rewarding adventure. Every guide is mutli-lingual and is up-to-date with the local weather, wave and wind conditions of Ponte Piedade.
All you need to bring on this 3 hour trip is your swimsuit, sun cream, dry clothes and something to drink. On every kayak is a 25 liter waterproof bag available.

Fitness level required nº 3, difficulty C.
We run these trips in the summer season daily:
10h00 - 13h00
13h00 - 16h00
Prices for a 3 hours kayak, snorkel, swim and deserted beach experience:
adults € 25 per person
a child in the middle, accompanied by 2 adults, pays only € 10
Big Game Fishing
The Algarve is popular among anglers as swordfishes, tuna and various shark species make great demands on their talents and will power. Along the South Coast of Portugal you can sail almost any harbour for sea fishing Algarve. Some well-known spots:
Praia da Luz / Lagos
'Pescamar' is a ship, specially built for sport fishing, crewed by experienced fisherman who do their utmost to make sure you will experience an unforgettable day. The boat is equipped with professional equipment such as fighting chair, outriggers and the most modern electronic equipment for tracing sharks, tuna and merlin. Pescamar has a license to go 25 miles offshore for sea fishing Algarve.
'Bom Dia' in Lagos offers 'family fishing trips' with a wonderful sailing boat. Thanks to the relaxed atmosphere on board and the helpful crew a first fishing experience will become a wonderful adventure.
Contact www.bomdia-boattrips.com for prices and reservation.

Portimão
You will set off with a fast boat from Praia da Rocha in Portimão to the fishing area where you might see large bass, sea eel, Blue Fish, tuna, swordfish and sharks. The boats are equipped with professional fishing reels and rods and all other necessary equipment to experience a wonderful day. 'Cepemar' is one of the organizations for big game fishing from Portimão.
Contact.biggamefishing. for prices etc.
Sailing
Based in the Marina de Portimao, from where we have the wild ocean and strong winds of Cape St Vincent to the west, and the river delta of Faro to the east, all within one day sailing.

The Marina is situated in the mouth of the river Arade, which is navigable up to the heart of the city of Portimao. Always well sheltered, the river offers excellent training ground to practice the first steps of boat and sail handling. The wide and deep river mouth guarantees a safe entry under all circumstances.

During the summer the wind will increase with every mile we sail west, giving the unique opportunity to choose for yourself how much wind you want to experience on a given day.

For our multiday events we have the cities of Lisbon, Cadiz, Huelva, Gibraltar and Tanger, all within 24 hours sailing.
Nature friendly, fun and safe cycling tours from the Foia; with 902 meters, the highest mountain in the Algarve. You will cycle with our guide downhill through the green valleys of Serra de Monchique. Enjoy the beautiful panoramic views and let gravity do the work!

The trip starts at the office in Mexilhoeira Grande (no car? no problem!) From here you are brought to the highest peak in the Algarve in the middle of the Serra de Monchique, by a mini-van.

Enjoy here the stunning views to the west & south coast. The restaurant on top of this mountain is always open and can serve you a lovely coffee before you start the trip. After a good explanation you will cycle back to the coast… easy going downhill!

The experienced multilingual guide will take you on quiet land roads. The guide will stop at the most picturesque sites and give you information about the local wildlife and nature. Since 2001 Outdoor-Tours.com rolls down this mountain. We have now developed this tour into a safe & fun concept of cycling in the mountains, suitable for young people and for those who stayed young!

The trip is suitable for everyone between 14-70 years with some cycling experience. To deliver optimal service during the tour a service car will follow with water and your belongings.

Does this sound like too easy going? Join our Downhill Off-road Trip, for skilled riders only!
The aluminum 'all terrain' bikes are custom made and have safe hydraulic brakes from Magura, comfortable gel seats and front suspension. The handle bar is higher than on a normal bike, so you will enjoy a safe and comfortable sit position. We provide you with a helmet and a water bottle.
Nature trip
"The natural way to enjoy the Portuguese country side":

After a long and easy descending with spectacular views we head further south. The remaining part you will cycle cross country through beautiful valleys with quiet tarmac roads. While cycling close to little farms, the local shepherd will always greet you. We end the trip on gravel roads to the warm estuary lagoon of the Ria de Alvôr, where you can spot flamingos and spoonbills in the winter. A local, light and tasty lunch is included.

The total distance is 35 km (22 miles) from which 60% goes downhill and 40% goes through quiet and green valleys. We´ll meet at 10h30 at the main office in Mexilhoeira Grande, and will be back around 16h00. Fitness level required nº 2, difficulty B.

Summer Trip
"The lazy way to enjoy the beautiful green Serra de Monchique":

In the summer months you will enjoy our easiest bike trip, leading you downhill through eucalyptus and cork tree forests. 98 % of this trip is downhill - so let the gravity work for you! During this trip we stay on good roads with little traffic.

A local, light and tasty lunch is included. The total distance is 22 km (14 miles) from which 98% goes downhill. We start at 10h30 and will be back around 14h00. Fitness level required nº 1, difficulty B.
Waterparks
One of Europe's largest waterparks is at a mere 20 minutes drive away from your apartment. It is in Estombar, municipality Lagoa. It is called Slide and Splash and is open from April to October from
10.00 – 17.00 Tickets can be bought in several tabacconists and there is a pick-up bus. A real and unforgettable event for your kids.
Just a bit further along the EN125 will take you to another Waterpark, Aqualand, which is known for its Kamikaze slide, almost 100 yards high, the Crazy Race and the Banzai. Also the Mini Park is not to be missed.

Algarve Weather
One of the best advertising slogans for the Algarve is that there are no less than 3.000 hours of sunshine per year. For us Northerners that is exactly what counts; get a nice and healthy tan, relax under the warm sun and enjoy the feeling of freedom

Under this link you can see the Faro weather forecast in order to plan your outdoor activities (or in-activities if you just want to lay on the beach and relax)

But of course, also the Algarve needs the occasional rainfall as the drinking water is mainly supplied from the large reservoirs which are filled with water from the rivers. Known reservoirs and worth a visit are Baragem da Bravoura, just above Lagos and Baragem do Funcho/Arade between Silves and Sao Bartolomeu de Messines (also worth a visit!)

Long Winter Stay
Many people want to escape the cold and wet winters and book a long stay holiday in warmer and more sunny countries. Especially because of the central location of the apartment, so close to all facilities of Portimao, Praia da Rocha and the everlasting, neverboring views on the Arade river and the Ocean, Vila Arade is the place to spend the cold and dreary U.K. winter months.

December, January and February have many lovely sunny days with temperatures inviting to go to the beach or to tan on the roof terrace or your balconies. For those wanting to stay longer period, a special price can be agreed upon. Contact the owner and save money!
Getting There
- Fly to Faro airport, Lisbon or Sevilla
- Car hire available, view our quote on www.Faroairport-carrental.com
- 45 car minutes from airport to your apartment in the Algarve
- Clear directions and coordinates will be sent by email upon booking.
Nearest Travel Links
Airport: Faro (65 km)
Ferry: Portimao (0.1 km)
Railway: Portimao (3 km)
Rental Details
No fixed change-over day, No booking charges, no commission, no fees. no nasty surprises, NONE. Our prices are all inclusive. Payment by bank transfer, or with your card through www.Transferwise.com 50% upon booking, remainder latest 2 months before using the apartment.
Suitable types of Holiday Portimao
Fishing
Golf Course
Horse riding
Tennis courts
Water Park
Watersports
Sailing
Diving
Swimming
Walking
Surfing
Waterskiing
Windsurfing
Wine tasting
Local cuisine
Relaxation
Exterior Details
Premises totally fenced/walled for optimal security. Swimming pool with child section, elevator from garage to your front door, third (top) floor location. Breathtaking views. BBQ on the roof terrace.
Exterior Facilities in Apartment Vila Arade, Top Floor, Sleeps 4, Sea View
Balcony/Terrace
BBQ
Parking space
Secure parking
Shared garden
Shared outdoor swimming pool
Solarium/Roof Terrace
Interior Details
Spacious lounge, sliding door to two terraces with great sea views, large comm. roof terrace with BBQ, fully equipped kitchen and very complete with iron+board, hairdryer, washing machine, lounge beds by the pool, free WIFI, Satellite TV, etc. etc. Free and secure parking in garage.
Facilities in Apartment Vila Arade, Top Floor, Sleeps 4, Sea View
Air conditioning
Cooker
Dish washer
DVD player
Freezer
Fridge
Hairdryer
Highchair
Internet access
Iron
Kettle
Linen provided
Microwave
Television
Toaster
Towels provided
Washing machine
Safe
Bedrooms / Bathrooms
Bedrooms (1)
Bathrooms (1)
Showers (1)
WCs (1)
Sleeps a Maximum of 4 people:
Double Beds (1)
Sofa Beds (1)
Cots (1)
Furniture
Dining Seats (4)
Lounge Seats (4)
Note: Prices in Euros per week. No extra's, No booking fees, No commission, No admin cost, No end cleaning, No charge for a cot, No etc. Prices all included. NO surprises.
Payment by bank transfer 50% upon booking,
2020 low season
2020 pre+after season
2020 high season
2020 peak season
2020 X-mas/NY
2021 low season
2021 pre+after season
2021 high season
2021 peak season
2021 x-mas/NY
Prices may be subject to change at the owner's discretion.
Loudervoice Reviews
Powered by LouderVoice and LouderYou
Similar holiday homes with 1 bedrooms in Algarve area View more...
Other properties by this owner
Need any holiday ideas?
Looking for different types of holiday?